Years ago Dame Edna Everage [aka Barry Humphries] had a semi-reality show called Dame Edna's Neighbourhood watch in which she would sneak into houses, albeit by invitation, and assess the housekeeping skills of the various victims. Home owners, I mean.
Bathrooms and lavatories were treated to a ruthless scrutiny and the audience squirmed in delighted shame as she inspected the cabinets, crevices and corners of those offices, checking everything from the state of the loo rim to the hang of the bog roll. Her comments were seldom generous but we loved it.
My fear is I've become a second Dame Edna – except I'm a South African obviously, and a woman. And I don't have permed pink hair or funny spectacles, or – okay. Let me put it this way: I am obsessed with other people's bathroom. Forget the rest of the house. I want to see the bathroom.
I could do a blog entirely on bathrooms. I think I have become something of a bathroom stalker, and recent sleepovers have simply added fuel to the flames of my obsession. In the interests of protecting the innocent, I will not mention to whom these bathrooms belong or even where they are situated. I shall just mercilessly judge them.
Most recently, a bathroom which was a mixture of ultra modern, bewildering plumbing;  the discretely upmarket ethnic you usually find only in the most wildly expensive game lodges – warm mosaic tiles, bright recessed lights, glass wall tiles – plus fabulously baroque furniture that could have come straight from Beardsley's Rape of the Lock.
A highly individual and strictly personal room in which eclectic styles are mixed to perfection, a total reflection of the people who designed it: but in case I become too House and Garden advertorial, I was relieved to discover a flaw.
We modern South Africans love our showers; what may have started as making a virtue of necessity given our hot climate and semi-permanent drought, has now become the washing method of choice. Films and TV series reflect the American preference for locating the shower in the bath: here, it has its very own stall.
Fifty years ago, showers were generally a lot bigger than they are now. They were often as large as four by six feet, the old rosette showerhead would be fixed a good six plus foot off the ground, and the floor [finely mosaiced or screeded, depending on your economic status] was curbed by a ledge of at least a foot.
My grandmother's shower curtain was a deep cream with a pattern of black, red and white yachts, while my parents had a white curtain with blue dolphins. In today's smaller showers however, shower curtains are agents of the devil; cold and clammy, sticking to your skin if – God Forbid – you touch a wet one, and no matter how asiduous you are in folding them up to dry, they invariably develop mould.
Glass doors, whether folding or sliding, would seem to be the answer, but they too have built-in redundancies. In my previous home, my husband started his shower but was over-enthusiastic in his application of the hot tap. When he was sluiced by boiling water he forgot the shower had a sliding door, not a curtain. He also forgot how to turn off the hot and turn on the cold tap.
I heard a yell followed by an enormous crashing and clanging as he made his break for freedom. He is not a small man so he succeeded, demolishing the sliding doors in the process. I rushed to the bathroom, demanding to know what had happened, but he assured me all was well and I need not come in.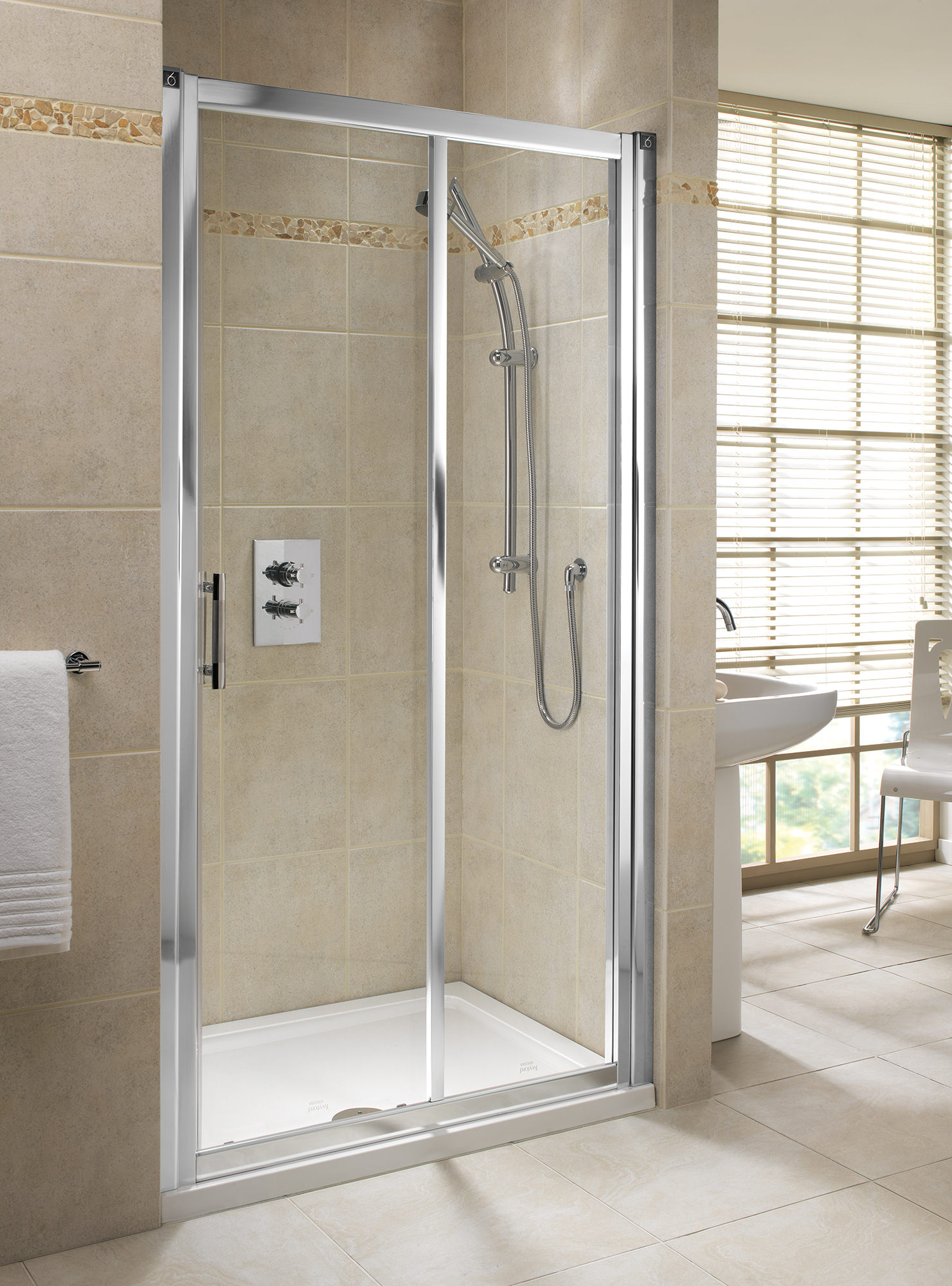 Well, we were never able to slide our shower door completely shut again, since he had destroyed most of the rollers. The problem was, while you could slide it closed, it usually got stuck in the closed position and could not be opened
My aged mother was one of the first to discover this. She showered in the depths of winter but on attempting to slide open the door and get her towel and gown, she met with extreme resistance. She had locked the bathroom door so I could not get in to help her escape, or even pass her a towel to stave off death by exposure.
With my yelling instructions from outside and her attempting to manhandle the glass door from inside, it was set to be a situation for the fire brigade, but fortunately she managed to force it open eventually. She never closed the shower door after that which resulted in a very wet bathroom floor.
My mother's house had a folding shower door. It was a small shower with a low ledge, and the doors closed at right angles. Or, rather, didn't close. The shower head was far too close to the wall , a mere three inches or so, and the pressure was usually appalling – too low in fact to have an actual shower since the water fell in a weak stream.
The plumber was a frequent visitor when my parents were alive but after they died we stayed there one last time, in the depths of winter, and had to make do with a trickle of lukewarm water falling so close to the cold and clammy wall tiles that having a shower was impossible and even washing become a penance.
However, when the pressure worked, the folding doors did not entirely meet the ledge at the bottom, nor did they meet at the 90 degree corner angle: as a result it was impossible to have a shower without covering the bathroom floor in water. The floor tiles were slippery, my parents were old and frail, and bathmats were soaked within seconds.
So, unless you confined your shower to a 60 second weak trickle of cold water, your four  minute douche [using the word in the Continental sense of course] resulted in an eight minute mopping of the floor lest the septuagenarians fall on the slippery tiles..
So shower curtains, and doors – sliding or folding – detract from the pleasure of the shower. In the second millennium though we have 'walk in showers' which have neither. The idea and design is supposed to be such that a hearty spray will massage your body to maximum efficiency but with minimum splatter.
These seductive showers feature neither curtains, sliding doors, folding doors or casement doors. Walk into the stall with its glass walls and beautifully tiled floor, turn on the space age controls, and get sluiced where, when, and how hard you desire. No clammy clinging curtains or  battles with doors when you have finished. Just walk out.
To return to the moderno-ethnic Baroque bathroom I visited this week: It had a walk-in shower, which consumed me with envy. Actually, the modern controls, the lights, the tiles, the mosaics, and, most of all the strangely and delightfully cartoonish furniture, all made me see green.
However, from a practical point of view, the walk-in shower was cause for comment. The technicalities of the shower were fabulous, I was assured, but the walk-in feature… not so much. The spray reached the far edge and went on the floor, which was rendered slippery and required the sacrifice of an absorbent bath mat.
The joy to discover the flaw in this diamond of perfection was indescribable! The Dame Edna comes out in me, that finger-wagging rueful comment, that schadenfreude: yes, your bathroom is beautiful and your bath products are superb, but you with your wonderful shower need a bath mat every bit as much as I do… Small and mean  minded human that I am, I am angling for a successful new career as the hostess of Aubrey's Ablution Expose.